Microsoft Dynamics CRM has helped many of us to transform the way we work, while selling smarter to our customers. It's helped to streamline the entire sales process, driving a higher number of qualified leads and opportunities thanks to it having the potential to house a number of marketing and sales applications on one intuitive platform – an immersive product integration experience that actually boosts sales as a result.
We're all looking for that little extra help.
Many of us, especially those working on a sales team, can always benefit from a flexible online solution that's customisable to suit the way we work together. Something to help get things done, smoothly and efficiently. A time-saving system that's actually enjoyable to use.
One such application is the Microsoft Teams – a real jewel that can be easily integrated into the crown of the Dynamics CRM – and it's got the sales community talking.
No wonder. This powerful tool has the capability to pull multiple communication functionalities into it, making collaboration a dream. Microsoft Teams boosts productivity levels (and reduces stress levels!) by bringing all relevant conversations, chats, online meetings, shared files, tasks etc into one handy app and interface.
It's easy to get collaborations up and running. For example, from a team channel, you can connect and work together with other people on customer accounts, opportunities, and so on. It's a simple process to create a sales team in MS Teams, adding members as and when you need to via a unified interface. From there you can assign and track individual tasks and due dates among colleagues. Those with permissions can edit the record and the changes will be synchronised with the Dynamics CRM.
With a Microsoft Dynamics CRM collaboration, you'll find so many benefits to make working together easier and more, well – dynamic – than ever! To break it down, here are some of the big ones:
Increased transparency
Seamless move to a digital workplace
Productivity gains and enriched communication
Quick updates on account progress
And why are we so certain about all of this?
We've been using Microsoft Dynamics 365 here at Osmosys for quite some time now to organise and run our business. The benefits have been so positive for us – and that's why we don't hesitate to recommend the platform to our clients.
In fact, Osmosys has a strong, proven track record of success and development experience with Dynamics CRM that stretches back over 15 years.
If you need any assistance in integrating Microsoft Teams with your Dynamics 365, Osmosys can help. We've designed, developed and customised Dynamics 365 to suit the needs of various clients from various business sectors. We're also experts in integration with programs including Xero, GP, Quickbooks and more.
Take advantage today – we're Microsoft Dynamics 365 experts and proud of it.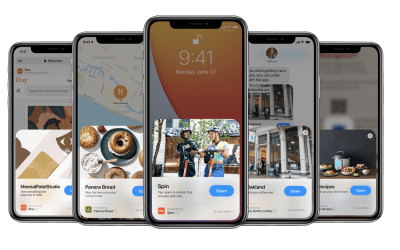 Twelve years ago Apple revolutionised the industry with the launch of App Store, and nine years ago Apple came up with a phrase, "There's an application for that!". In June 2020 at WWDC, the phrase saw itself getting tweaked: "There's an App Clip for that".It is the...
read more